Phoslock – A New Tool for Water Quality Restoration
By Shannon Junior, Aquatic Ecologist and Regional Manager, SOLitude Lake Management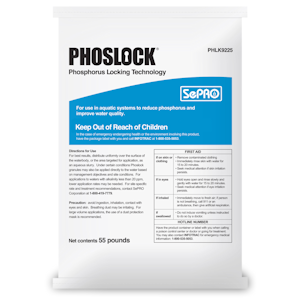 SePRO Corporation, a provider of water quality and technology products, has a series of proven products that our team of experts and customers rely on to make our lakes and ponds balanced and beautiful.SOLitude Lake Management is fortunate to be among the first companies in the U.S. to have the opportunity to use an innovative new phosphorus binding product called Phoslock. We applied it to hundreds of ponds during 2012, and we are very excited about its implications for our clients' ponds and the lake management industry in general.
     Over time, sediment and organic matter slowly accumulate in the bottom of a water body. This natural aging process, known as eutrophication, is one of the worst enemies of a healthy pond or lake. Phosphorus is a key component of the organic matter, and it's the primary limiting nutrient in the development of harmful algal blooms. Phoslock can literally reverse the aging process of a water body by removing phosphorus from the system.
     Traditional reactionary algae management programs involve periodic treatments of algae blooms with aquatic algaecide products. Although this strategy will temporarily clear up the blooms, the nutrients will be recycled through the system to fuel future blooms. More proactive and comprehensive algae management strategies are geared towards water quality improvement to minimize the conditions that are conducive to bloom formation. SOLitude implements an integrated approach that includes strategies such as aeration, beneficial bacteria, and aquatic dye to help reduce the prevalence of blooms. Phoslock is another "tool in the toolbox," and it's unique in that it directly targets phosphorus to remove it from the system.
     Phoslock is derived from a naturally occurring mineral called lanthanum, which has a high affinity to bind with free reactive phosphorus. The reaction forms an inert complex known as rhabdophane (LaPO4), which is extremely stable and insoluble. As a result, phosphorus is permanently inactivated and water quality restoration is in process. The product is completely safe for use in the aquatic environment, with no adverse affects on fish, macroinvertebrates, or other wildlife.