Unique Modes of Transportation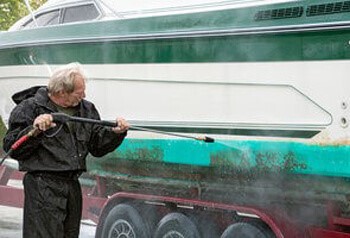 Algae get around in unique and very different ways. For example, humans move algae around quite a bit (whether they know it or not). Certain types of algae move around as a result of all sorts of human activities. For example, boats, jetskis, and snorkeling equipment can all have small algae on them. Algae spores or algal cells can dry on them and move from water body to water body. Fishing equipment like waders, fishing poles, and lures can move algae from one water body to the next.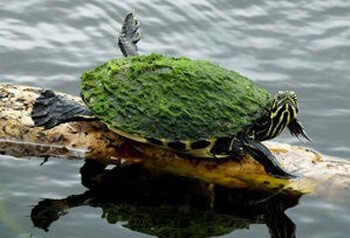 But it's not just humans. Many animals can have a play in moving algae around. Animals can transport algae directly or indirectly to different bodies of water. Turtles, for example, can play host to algae that grow on their shell. Fish can eat and excrete algae in different areas of a pond. There's algae that grow attached to different animals, like muskrats, beavers, and alligators.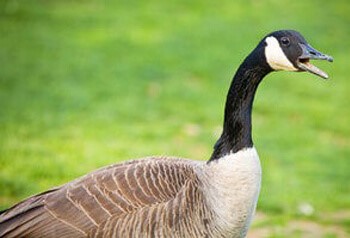 However, of the worst culprits is waterfowl, like geese. Algae can stick on their feathers, fur, and feet. To make matters worse, algae can actually pass through the guts of waterfowl. Some algae are designed to be tougher, to have protective defenses against the intestinal systems of waterfowl. As a result, these algae can pass right through and get excreted out into new bodies of water where those waterfowl are flying and landing. There have been documented cases of algae moving thousands of miles with migration of some of these waterfowl in particular.
Algae can also get around without the help of animals or humans. Many algae have spores or cells that can arise into the atmosphere, into the air around us. One group of scientists went up 500 feet into the air and collected a sample, put some water and nutrients in it, and that sample started to grow many types of algae. Just through the wind, with algal cells moving in the air, many types of algae can migrate. Those can settle in different bodies of water and grow. For example, you've probably seen algae growing in your swimming pool or birdbath, or even just a cup of water that was left outside for too long. These likely originated from the atmosphere, from the air, and dropped down into that water and started growing.
Summary
In today's episode, we summarized the causes and sources for many types of algae, and where they come from. We also covered how they get around, and briefly summarized some of those factors that may cause them to get out of hand. Thank you for your time today, and thanks for checking out this episode of the Algae Corner!