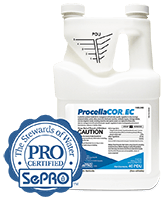 ProcellaCOR® is the ultimate solution for many invasive weeds.
SePRO Corporation, a leader in innovative aquatic products, has earned a Reduced Risk classification from the US EPA for ProcellaCOR. Currently, a limited number of companies are certified to treat waterbodies with this fast-acting, long-lasting product. Are you ready to join them?
How your customers choose to protect, preserve, and restore their water is important. Become a PRO Certified ProcellaCOR Specialist to offer your customers:
• Selective removal of nuisance and invasive weeds
• Protection of native plants
• A product with Reduced Risk classification
• Longer control with less active ingredient
Get PRO Certified. Fill out the form to learn how to attain this exclusive certification and to see if you qualify.