Chinese Investors in Myrtle Beach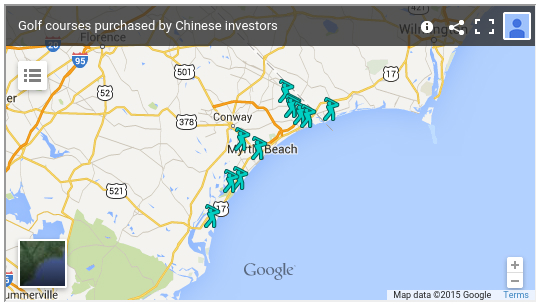 In the past 20 months, Chinese investors have spent over $47 million acquiring golf courses in the area know as the Grand Strand- a 60+ mile strip of uninterrupted beach- mainly near Myrtle Beach. Coupled with earlier purchase of Waccamaw Pottery in 2011 for $7.5 million and Grande Dunes- a housing development- for $5 million, the recent investments are part of a global Chinese foreign investment trend. 
     "China has too much money right now. [The government] is encouraging companies to invest overseas," said China native Xian "Nick" Dou, New York City immigration attorney and partner in Yiqian Funding, an investment group that has purchased multiple course properties in the past few years. 
     And the country's businessmen, as a whole, have been paying attention; outbound foreign investment has increased from $323.4 billion to $640.2 billion in the period between 2011 and 2014. China itself has boasted annual double-digit national product growth for the past few years, and according to Brad Dean, CEO of the Myrtle Beach Area Chamber of Commerce, its investors are interested in longer return-on-investment cycles. "They're looking at where Myrtle Beach could be 25 to 30 years from now."
     Check out the full article below to learn more about purchases in the area and the investors who made them.