Magnetized Water, Reduced Irrigation
     With droughts predicted to worsen in the coming years, the golf industry is on the lookout for new, economical ways to increase water efficiency. And one study, "The Effects of Magnet Treated Irrigation Water on Kentucky Bluegrass in a Greenhouse Environment," documented a 20% reduction in the amount of water needed to sustain healthy turf when a magnetized irrigation treatment was used. 
     To put that into context, the U.S. golf industry uses around 2.08 billion gallons of water daily; if all courses began using the magnetized water, that would put potential annual savings at 151,850 billion gallons.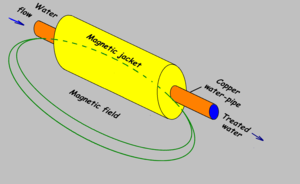 "Being a golf course superintendent for 30 years, I was somewhat skeptical at first," said Dean Piller, superintendent at Cordova Bay Golf Course, Vancouver Island, B.C. "So I decided to run a few informal tests here at Cordova Bay before I made any real investment in the products, and I was happily surprised at the results we got. With the Magnation treatment, soil moisture and overall chemistry was enhanced, hydro-phobic turf was restored to a healthy state and dry patches disappeared.... Our irrigation run times were 80,000 gallons less per night; a 2.5 million gallons savings of water per month."
     The basic principle behind the magnetized water, according to the article, is the restructuring of water molecules into very small clusters, each made up of six symmetrically organized molecules. This allows for easier entry into turf cell membranes, hydrating turf more effectively