MSU Hancock Center for Turfgrass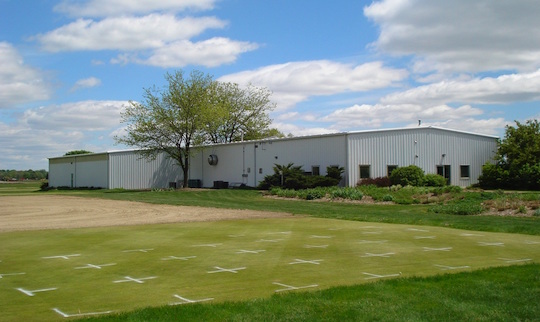 The Hancock Center Turfgrass Lab (research.msu.edu).



     Starting to take off in the 60s and 70s, the turfgrass research and education program- based at the Hancock Center on the MSU campus- continues its notable growth today. "We started Hancock Center on 10 acres in 1979 and now cultivate 58, and we believe this is the most renowned turfgrass research center in the world," said Gordon LaFontaine, director of the Michigan Turfgrass Foundation and owner of Pine View Highlands Golf Course in Houghton Lake. 
     The facility, which now boasts 6 full-time professors and 35 people working in development, has developed and installed surfaces for World Cup soccer and the Olympics, while offering two and four year degree programs in golf course management and turfgrass care (and currently boasts 1,400 graduates).
     One of the newest developments at the Center is a new turgrass variety called Flagstick; designed to resist dollar spot fungus, while tolerating a wide variety of temperatures. 
     For the full article from mlive.com click here, or on the link available below.