On Course: Phosphorous & Phosphorous Reduction
     Over time, sediment and organic matter slowly accumulate in the bottom of a water body. This natural aging process, known as eutrophication, is one of the worst enemies of a healthy pond or lake. Phosphorous is a key component of the organic matter, and it's the primary limiting nutrient in the development of harmful algal blooms. Phoslock® can literally reverse the aging process of a water body by removing phosphorous from the system.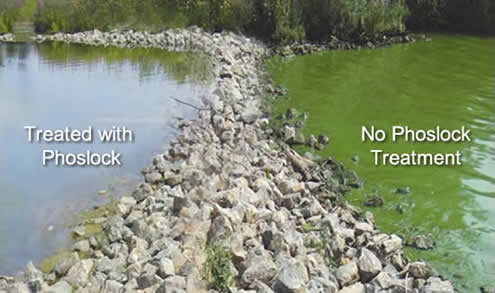 Two adjacent lakes in the the Netherlands (Het Groen Eiland and De Gouden Ham), photo taken six months following a Phoslock® application to Het Groen Eiland lake.  See Case Study



     Traditional reactionary algae management programs involve periodic treatments of algae blooms with aquatic algaecide products. Though this strategy will temporarily clear up the blooms, the nutrients will be recycled through the system to fuel future blooms. More proactive and comprehensive algae management strategies are geared towards water quality improvement to minimize the conditions that are conducive to bloom formation.
Case Study
Crooked Stick Golf Club (2011)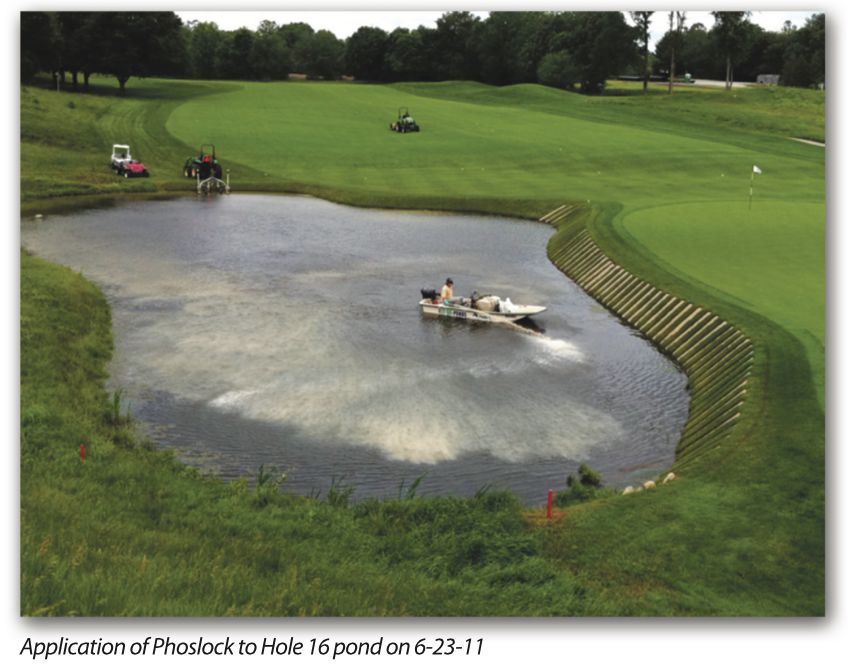 SePRO Corporation, in partnership with Crooked Stick Golf Club, Indiana, initiated a phosphorus mitigation program with Phoslock® on June 23, 2011. The objective of the project was to reduce phosphorus levels and restore water quality in this pond. 
     Total phosphorus levels were measured at 182 ppb prior to application, dropped 58% to 76 ppb within 48 hours following application and two months later remained at levels 70% lower than pre-applications conditions. 
---
     Derived from naturally occurring mineral called lanthanum, Phoslock® has a high affinity to bind with free reactive phosphorous. The reaction forms an inert complex known as rhabdophane (LaPO4) which is extremely stable and insoluble. Completely safe for use in aquatic environments, with no adverse affects on fish, macro invertebrates, or other wildlife, Phoslock is a powerful new tool for routine algae and water quality management. 



"

The term 'eutrophic' means well-nourished; thus, 'eutrophication' refers to natural or artificial addition of nutrients to bodies of water and to the effects of the added nutrients….When the effects are undesirable, eutrophication may be considered a form of pollution.

"

— National Academy of Sciences, 1969