Snoopy Bunker at St. Paul's Highland National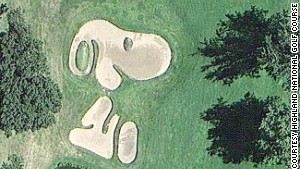 Charles Shulz, of "Peanuts" fame, enjoyed playing golf in his hometown of St. Paul, Minnesota, and Snoopy, one of his most famous cartoon characters, has had a home at the Highland National Golf Course ever since its 2005 course renovation. 
     "Charles Schulz was a huge figure in the St. Paul area and he loved golf," said Paul Miller, who collaborated on the renovations with Garrett Gill. "We wanted to honor his contributions to golf in the area, and Mrs. Schulz liked the idea. At first, we thought of doing a Snoopy-shaped pond, but the plans evolved into a Snoopy bunker. And it works to define the landing area of the hole."
     The 27-hole facility hosts more than 30,000 golf rounds over the Minnesota season, and the bunker attracts the attention of players and non-players alike. "A lot of people will come by to look at it," said Denise Kispert, golf course superintendent at Highland National for the past 20 years. "It defines our golf course." 
     Check out the original article from gcsaa.org here or through the link available below.