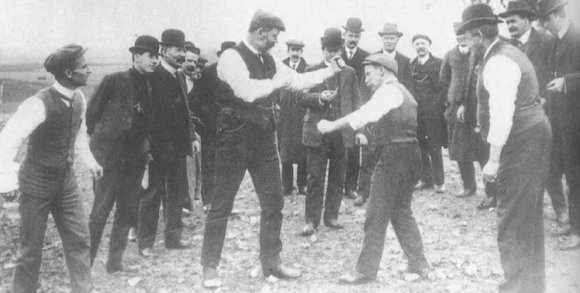 When fighting was classy and men well-dressed, image via cdn.filmschoolrejects.com



     At Weston Golf Club-- a 6,657 yard-track, Donald Ross designed course-- members take the dress code seriously, quite seriously. "When I arrived, I observed two men… engaged in a loud, verbal argument," said patrolmen Joseph Kozowyk, responding to a call concerning a "fistfight in progress." Stephen and Charlotte Weeple, allegedly, were walking to meet a group of members for a cocktail around 11 pm; however, before arriving at the clubhouse, Tom Ferry, club president, intercepted the under-dressed couple. Accosting them with "profane language to let them know they were in violation of the club's policy against jeans," Ferry later apologized, volunteering to take a one-month suspension before later resigning.
     In response to the incident an investigation was launched, and the club members who had invited the Weeples for a drink were subjected to wardrobe inspections; found to be failing in their vestments, a three month suspension was issued. If alcohol wasn't a factor in the initial fracas, everyone involved could use a drink about now.