Another Lake Erie Algal Bloom Expected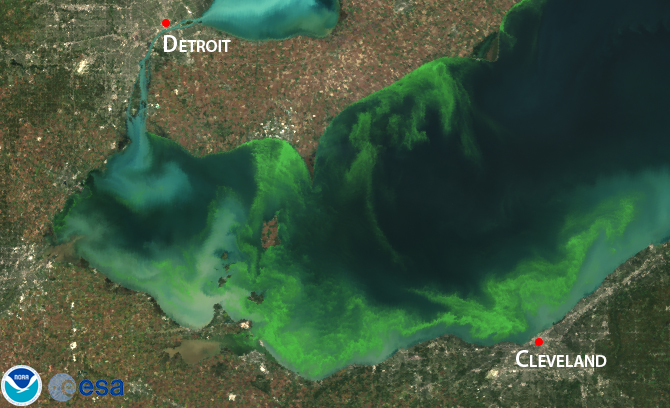 The 2011 Lake Erie algal bloom. Image credit: noaanews.noaa.gov



      While it probably won't be as large as previous years' blooms-- most noticeably the 2014 bloom which shutdown tap water for 400,000 people for two days-- scientists at the National Oceanic and Atmospheric Administration (and their partners) are still expecting a "significant" algal bloom to form in western Lake Erie. 
      "It'll be large, green and ugly and will cause the same kinds of issues it has in the past for charter boat captains trying to get people out to fish," said Don Scavia, a University of Michigan scientist. 
      Blooms are measured by how much algae they contain over a sustained period, this is then represented on a 10 point scale; blooms over 5 on the scale indicate a potential for harm (due to oxygen depletion or toxins), though it is important to note that even small algal blooms can produce toxins. This year's bloom is expected to be a 7.5, though it could range from a 6 to a 9.5.
      Previous highs include the lake's 2011 algal bloom, registered at a 10, as well as 2015's algal bloom which came in at 10.5, surpassing what scientist supposed would be the scale's limit. 
     For the full article click here.