Canyon Lake to Receive Fifth Alum Treatment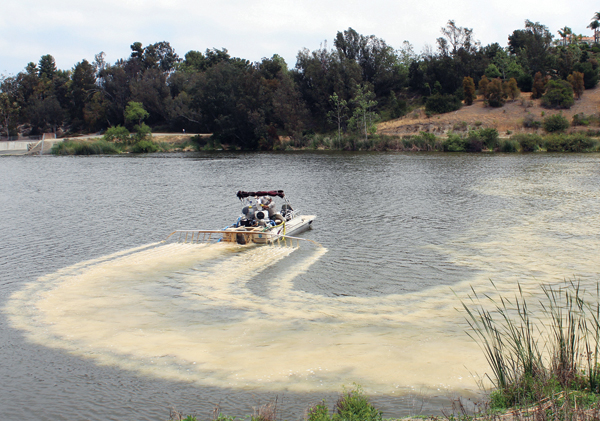 An AquaTechnex boat applying Phoslock to Laguna Niguel Lake, 2013. 



     The fifth and final treatment in a two-and-a-half year application program, officials hope to apply alum to the Main Lake and East Bay beginning today (September 21, 2015). Aquatechnex, the company in charge of application, has employed GPS mapping to ensure that all parts of the lake are treated. 
     "Historically, Canyon Lake has been known to suffer from algae blooms." Said Mark Norton, administrator of the Lake Elsinore & San Jacinto Watersheds Authority (LESJWA). "Because of nitrogen and phosphorous that enters the lake through water runoff, the lake suffers from an excess amount of nutrients. These nutrients encourage algae growth. When the alum is added to the lake, it immediately binds to the phosphorous, which reduces the opportunity for algae growth."
     After this final treatment, a preliminary report will be compiled to suggest further steps in improving Canyon Lake's water quality.
     The full article is available here, or through the link below.