Chesapeake Bay Harmful Algal Blooms Increase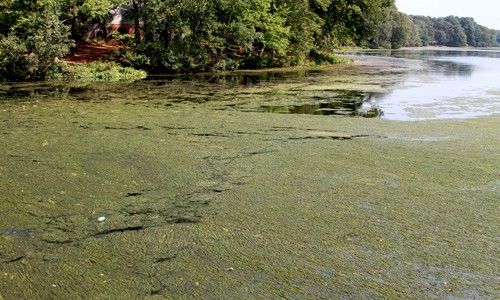 Image via chesapeakebay.net.



     A recent study from University of Maryland Center for Environmental Science shows a marked increase in harmful algal blooms in the Chesapeake bay and its tributaries. Fueled by excess nitrogen runoff from the watershed, three types of harmful algae were the focus of the study; Prorocentrium minimum and Kalrodinium veneficum (dinoflagellates) and cyanobacteria (commonly referred to as "blue-green algae"). 
     Examining water quality data collected from 1991 to 2008 by the Maryland Department of Natural Resources, research showed that the average number of annual Prorocentrum minimum bloom events doubled, with events most likely to occur in May. The blooms were severe enough to cause what is commonly known as "mahogany tide," where the water turns a reddish color. 
     Annual Kalrodinium veneficum blooms increased from fewer than five events, to more than 30 in the time period from 2003 to 2008. More likely to occur in the summer, the blooms have been implicated in fish-kill events as well as in the failure of oyster spawning and development.
     Cyanobacteria increased from about 13 per year in the 1990s to 23 per year in the 2000s. A major cause of harmful algal blooms in freshwater, annual harmful cyanobacterial blooms are expected to increase in the coming years.
     To read the full article click on the link available below.