CropLife America and AgGateway Select 2013 IT Innovation Award Winner
     WASHINGTON, DC – CropLife America (CLA) and AgGateway recognize SePRO Corporation with the 2013 Information Technology (IT) Innovation Award for its development of the SePRO Mapping Assessment and Prescription System (SeMAPS), a precise and effective tool for aquatic weed management. The innovation serves as just one example of how technology is successfully incorporated within the crop protection industry to achieve more precise product applications. Now in its third year, the CLA/AgGateway IT Innovation Award identifies an outstanding company or organization that has embraced new technologies that resulted in improved business processes, increased profitability or cost-effective savings or improved customer/supplier relations.  
     Applicators, regulators and homeowners utilize the award recipient's custom application software to more accurately determine water surface volume and acreage in order to apply appropriate doses of herbicides and algaecides for effective weed and algae control. The software relies on Geographic Information System (GIS) prescription tools to draw detailed application maps of various bodies of water, and allows users to calculate the most effective method and quantity of product needed.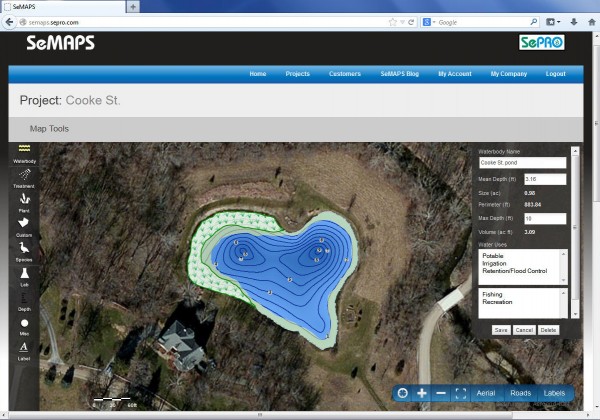 One objective of the innovation is to assist professional applicators in maintaining accurate treatment records in order to comply with National Pollutant Discharge Elimination System (NPDES) requirements, as administered by the U.S. Environmental Protection Agency (EPA). The software automatically calculates effective rates for herbicide usage so that applicators can demonstrate adherence to label guidelines. These records are permanently stored within the software for later reference.
     "We commend SePRO Corporation for their forward-thinking development of SeMAPS, which demonstrates just how far technology has taken herbicide and specialty product applications," commented Jay Vroom, CLA's president and CEO. "Applicators and growers no longer need to think about simply making an educated guess when it comes to treating bodies of water or fields. They are keen to adopt innovations such as these that creatively incorporate technology and support best management practices."
     "CLA is recognizing with its award one great example of the powerful technology advancements being brought into the marketplace by our industry every year," said RISE president Aaron Hobbs. "This year's award highlights the critical role technology plays in protecting our environment."
     The 2013 IT Innovation Award will be presented to SePRO at the 2014 CLA & RISE (Responsible Industry for a Sound Environment) Spring Conference, being held April 9 - 11, 2014 in Arlington, VA. In addition to being a CLA member company, SePRO is also a member of RISE. As part of the award, AgGateway will also provide a charitable donation to an organization of SePRO's choosing.
     SeMAPS™ is an innovative web-based Mapping, Assessment and Prescription System that can be used on any laptop or mobile device. The system is specifically designed for aquatic applicators and water managers allowing project management, planning, and centralized record keeping. SeMAPS provides quick mapping tools to accurately determine the surface acres and water volume of ponds and lakes, which are key factors in determining the proper amount of algaecide or herbicide to apply to achieve success and ensure applications stay within label rates. The system provides an accurate prescription calculator, real-time service reports, and rapid recording of project information in the field. Additional features are superior proposal generation and integration with other common data formats such as GPS, Google Earth™, and ArcGIS™. The ease-of-use and rapid project data retrieval of SeMAPS are second to none.
---
     Established in 1933, CropLife America (www.croplifeamerica.org) represents the developers, manufacturers, formulators and distributors of plant science solutions for agriculture and pest management in the United States. CropLife America's member companies produce, sell and distribute virtually all the crop protection and biotechnology products used by American farmers. CLA is also on Twitter and can be found at @CropLifeAmerica. CropLife America supports StewardshipFirst.
     Based in Washington, D.C., AgGateway is a non-profit consortium of businesses serving the agriculture industry. The consortium helps member companies improve their profitability and productivity by educating, promoting and expanding participation in eBusiness in agriculture and agriculture related businesses.