Eurasian Watermilfoil Found in Lake Victoria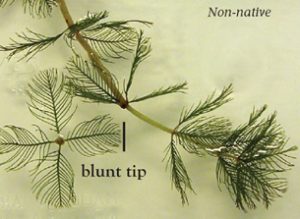 A close-up of non-native, or invasive, Eurasian watermilfoil. Image credit: lakegeorgeassociation.com



     Despite best efforts to eradicate Eurasian watermilfoil in Douglas County lakes, the invasive was found recently in Lake Victoria's south access. Until this discovery, only two other lakes in the county had established Eurasian watermilfoil-- Oscar and L'Homme Dieu. 
     "It's not very dense at this time and I only saw two or three plants when I was on the Lake," said Justin Swart, environmental planning technician with Douglas County Land and Resource Management. Swart, along with the DNC, confirmed the inspector's initial report about milfoil near the lake's south access. 
     Nearby lake associations hire out for chemical applications to control the invasive, this in turn keeps more acres open for boating and recreation. PLM Lake and Land Management Corp. (out of Brainerd) treats L'Homme Dieu Lake, hired by The L'Homme Lake Association. "[It's] not a long-term solution, but it has slowed down the growth," said Steve Henry, president of the association. "If we didn't treat it, we'd probably have more than 60 acres of unboatable water."
     For the full article from echopres.com, click here or on the link available below.