Illinois Waters Impaired 25+ Years On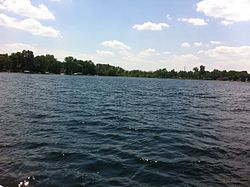 A view of West Loon Lake, Lake County, Illinois.



     Dealing with issues such as algal blooms, low oxygen levels, silt deposits and invasive species, the water bodies in Lake County, Illinois had a lot working against them. And, as of today, they still do. Around 75% of the county's 90 lakes are classified as impaired, and that's roughly the same number as a quarter of a century ago.
     "Not many have been taken off that list in the past 25 years," said Mike Adam, senior biologist with the Lake County Health Department. And many of the lakes' woes seem to come down to an excess of nutrients, whether by nature (geese and other waterfowl) or by people (leaky septic tanks, excess fertilizers), the eutrophic waters have caused beaches to be closed, fish killed and people sickened.
     To read cases on some individual lakes, and the measures taken to improve their water quality, click here for the article from the Chicago Tribune or through the link below.
To enable comments sign up for a Disqus account and enter your Disqus shortname in the Articulate node settings.