Invasives on the Great Lakes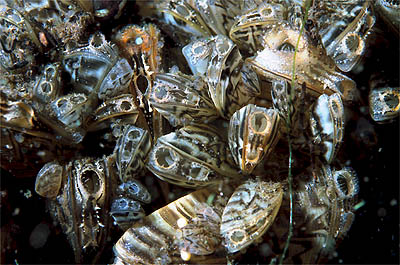 Zebra mussels. Credit: GerardM - en.wikipedia.org



     With approximately 180 invasive species recorded in the Great Lakes, protecting and controlling the nuisance plant and animal species is a lot of work. In this piece from wxxi news, Andrea Locke of the Western New York Partnership for Regional Invasive Species Management office, answers a few questions about invasive species in the area.
Great Lakes Today: Which one or two [invasive species] are creating the most havoc?
Locke: The species doing the most damage to the Great Lakes are those species that significantly disrupt aspects of the ecosystem that native animals, plants and other organisms depend. These disruptions can be to nutrient cycles and water filtration, food webs or structural diversity that provide different habitats. Although not yet within the Great Lakes, Silver and Bighead Carp would be such species. Another example, currently found within the Great Lakes, would be zebra and quagga mussels.
      For the full article click the link available above or below. New York state's Invasive Species Awareness Week took place last week.