Lake Erie's Current Algal Bloom
On going since mid-July, this large phytoplankton bloom in Lake Erie was captured in a series of natural color images taken by the Operational Land Imager (OLI) on the Landsat 8.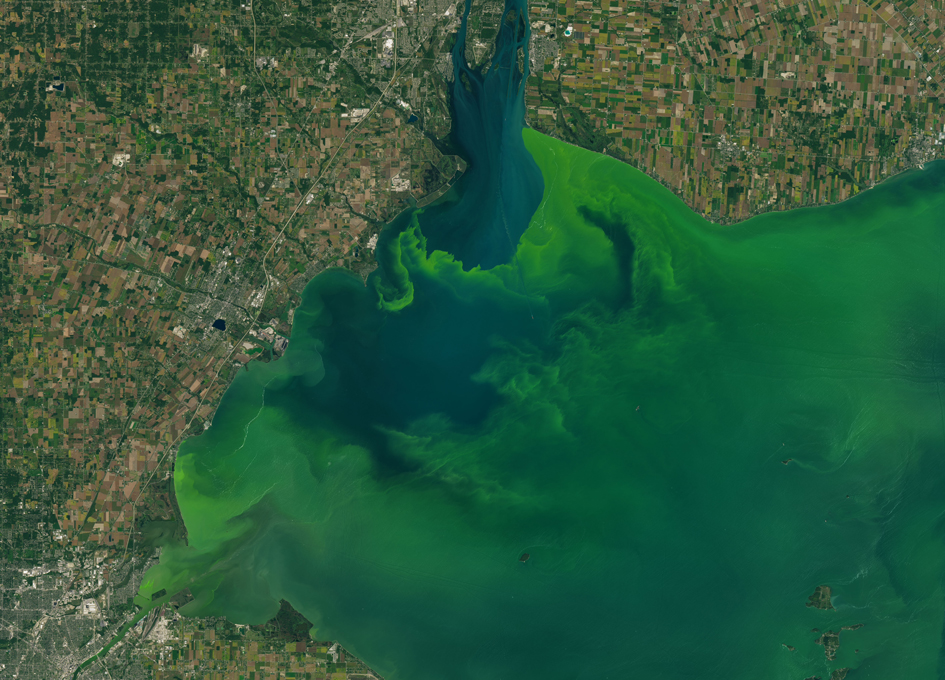 This Landsat 8 image from September 26, 2017, shows a large expanse of the algal bloom in Lake Erie. In late September, the bloom covered more than 700 square miles. Image Credit: spaceref.com

Lake Erie has a long history of impaired water quality, and ever since the 2000s that history has included near annual algal blooms.
While they do not always raise issues for the local flora and fauna, or local towns, readers probably remember this incident in 2014, when around half a million residents of Toledo were left without drinking water due to the concentrations of microcystin toxin in that year's algal bloom.

Algal Blooms and HABs
Microcystin, a somewhat common toxin in harmful algal blooms (HABs), can cause a variety of symptoms in people and livestock; skin irritation such as rashes or burns are possible with contact, while ingestion may lead to vomiting and/or liver damage.  
Produced as a by-product by some cyanobacteria (otherwise known as blue-green algae), the presence of toxins like microcystin is what distinguishes a HAB from an ordinary bloom. 
While the toxins in HABs pose a risk to humans, pets and livestock, large algal blooms, even without the presence of toxins, can be damaging to aquatic ecosystems. They can block light, generally signal an excess of nutrients in the water body, and during die-offs can lead to de-oxygenation events that can cause massive fish kills (they can sometimes even create or expand hypoxic zones).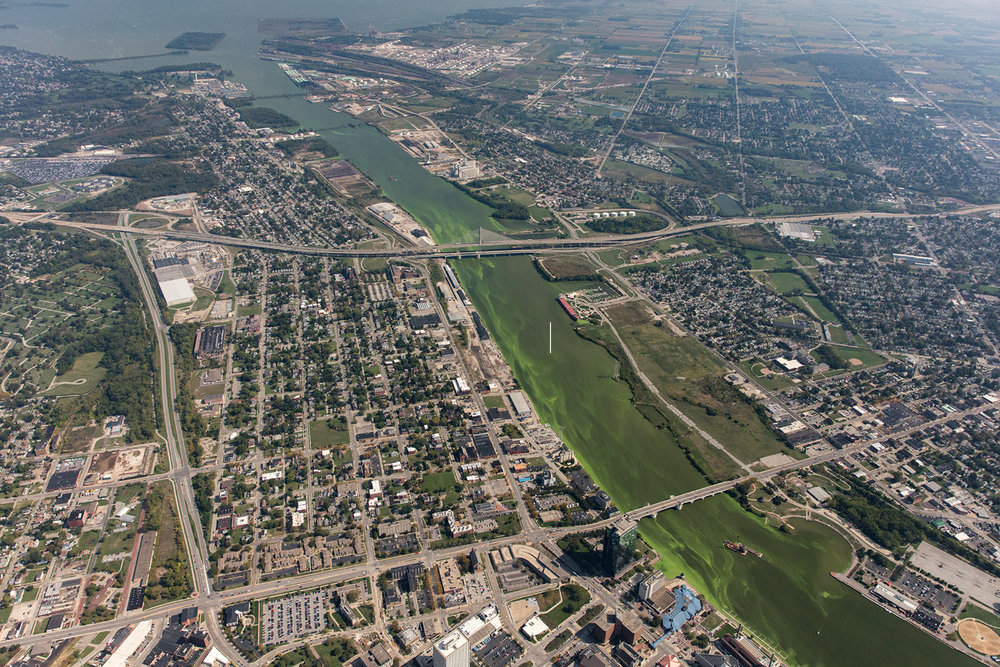 "In the Maumee River, the largest tributary to any of the Great Lakes, green algae was visible last week in an aerial photograph. According to experts, excess nutrients that are transported by the Maumee River can be a good indicator of how severe an algae bloom in the lake will be." Image and text credit: NY Times

The Local Economy
Much of the local economy is based on, or influenced by Lake Erie, and the presence of thick, green algae isn't good for business, and neither are stories of toxins. Affecting tourism, fishing and aquatic recreation among other things, locals are well aware of how much water quality can influence the economy.
"An awful lot of money may go someplace else other than Ohio if we continue having these issues in the lake," said David Spangler, vice president of the Lake Erie Charter Boat Association (NY Times). 
The issue isn't so simple, however, as nutrient run-off from another local economic force (agriculture) is in large part responsible for the excess phosphorus and nitrogen found in the local watershed.
Previous articles dealing with nutrient levels and local agricultural can be found by searching the blog, or using the gallery section.