Maine Crowdsources Invasive Control
     Launched around 3 years ago, iMapInvasive has been used to upload more than 2,800 observations on about 40 non-native plants. The online tool- designed for Maine residents- allows citizen-scientists (or anyone) to upload photos of invasive plants they encounter on public or private land. The data, according to state invasive plant biologist Nancy Olmstead, is being used to improve public land management and to help inform private landowners on how they can manage invasive species.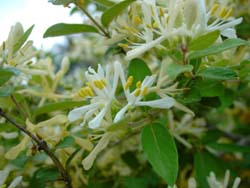 Morrow's honeysuckle (wikimedia.org). 



     "The problem with these plants is that they overrun native habitats and crowd native species," said Olmstead. "A better understanding of these plants will be helpful as we get a better idea of their distribution." With buckthorn, Japanese barberry, Morrow's honeysuckle and a few dozen other species to contend with, Maine specialists hope the data will help preserve the state's biological diversity. 
     The full article is available here, or through the link below.