New Science on Prevalence of Harmful Algal Blooms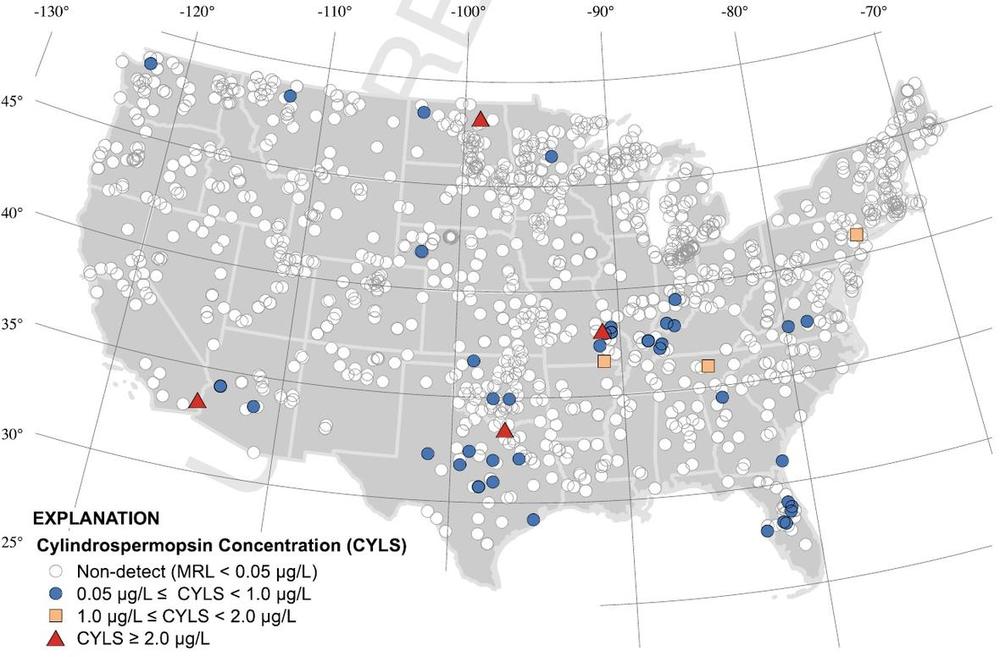 This maps show all of the lakes tested and those in which samples contained cylindrospermopsin toxins. Credit: usgs.gov



An assessment conducted by the U.S. Geological Survey and U.S. Environmental Protection Agency sampled 1161 inland lakes and reservoirs throughout the United States, and what they found about the extent, distribution and make-up of toxins from harmful algal blooms challenges several long-held assumptions.
Focusing on cylindrospemopsins, microcystins and saxitoxins—three types of cyanobacterial toxins (or cyanotoxins)—the study found that harmful algal blooms, and their respective toxins, are far more prevalent throughout the United States than previously thought.
"Some had believed that toxic cyanobacterial harmful algal blooms were just a local or regional occurrence, but this study shows that they are distributed in lakes throughout the nation," said USGS scientist Keith Loftin, lead author on the assessment. "This assessment shows that multiple classes of cyanotoxins are present in lakes in diverse settings throughout the United States. This is a significant finding given the perception that cyanobacteria blooms [sic] are increasing in frequency and severity."
Additionally, the study showed that testing for the presence of chlorophyll to determine microcystin levels is not reliable either.
For the full article on usgs.gov click here, or on the link available below.