Non-native Species and New Hampshire's Acceptable List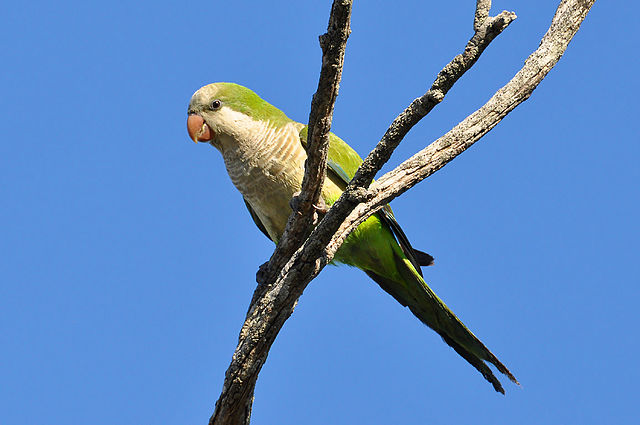 A Monk Parakeet. Formerly banned in New Hampshire, advocates of the species proved it could not survive the state's winter, making it unlikely to establish itself. It now resides on the state's list of acceptable species. Image credit: Cláudio Dias Timm, wikimedia.org



     With American lobsters up for ban in the European Union (with many European countries hoping to add them to the list of invasive species), local papers and experts in the U.S. have been weighing in on the state of invasives in the U.S., and how local governments deal with them.
      One state, New Hampshire, has fundamentally changed the way it deals with invasive and unknown species; no longer maintaining a list of invasive or banned species, it instead has a list of acceptable species. That is, a list of around 200 native, established and exotic species that are okay to be imported into the state. While this may sound like a trivial change to some, it actually means a huge change in how new species are imported.
     "We oversee aquaculture. One of the things I get all the time is requests [to allow] a species I haven't heard of," said Jason Smith, chief of the inland fisheries division of New Hampshire Fish and Game. Previously, species that weren't on the prohibited list would be allowed into the state. Now if a species isn't on the accepted list, it's up to the would-be importer to prove that it won't cause a problem if it gets loose.
     And, despite the current amount of invasive aquatic species present in the United States, there is very little regulation on the importation of non-native fish and aquatic plants. Aquariums are considered enclosed environments, and as such importers do not have to prove their inability to establish themselves stateside.
     For the full article from the concordmonitor.com click here, or on the link available below.