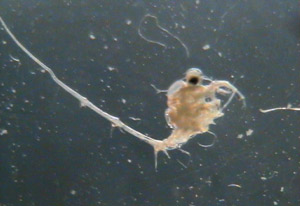 A close up of a spiny water flea. Credit: mass.gov



     First introduced to the Great Lakes via bilge water, zebra mussels have since spread widely in the area. And that's the case with many invasive species; they travel easily, whether it's attached to ships, fishing lines or other aquatic equipment, and they are even commonly bought and sold for use in aquariums. 
     Another such invasive, the spiny water flea, is so small that it is easily transferred by light fishing gear. Once brought to a new water body, the flea can then quickly overtake local zooplankton, significantly effecting small fish and other zooplankton (the spiny waterflea cannot be used as food by the fish, as their barbs make them painful to eat).
     For more from Bradfordera.com on invasives in the Pennsylvania area, check out the article here or through the link available below.
To enable comments sign up for a Disqus account and enter your Disqus shortname in the Articulate node settings.