Nuisance Algae's Source
    A widespread problem in rivers, lakes, estuaries and coastal oceans throughout the United States, high levels of phosphorous and nitrogen are a persistent, hard-to-treat imbalance in nutrients which can cause the loss of oxygen and important fish species while fueling nuisance algal blooms.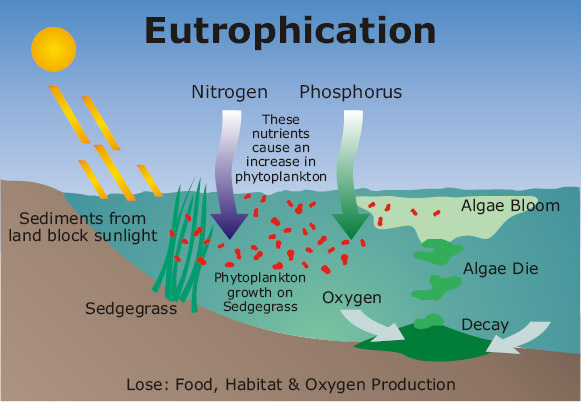 Hindering water's use for drinking, industry, agriculture and recreation, high phosphorous levels are a common source of freshwater algal blooms and reduced water quality.




     Common sources of nitrogen and phosphorus include animal wastes, dead organic matter (such as leaves, grass and even fish food), fertilizer runoff (agriculture, golf course, lawn), and faulty septic systems. 
    Because of high phosphorous levels, long-term management of nuisance algae can be difficult. Years of accumulation and internal recycling of phosphorus in ponds can continue to degrade water quality for years to come, even when nutrient sources have been curtailed through watershed management.
SeClear® Algaecide
    Designed from the ground-up to deal with nuisance algae's often two-part problem, SeClear® is the first all-in-one algaecide and water quality enhancer approved by the EPA. By treating the algae present and reducing the amount of available phosphorous, SeClear® has the potential for longer intervals between applications, smaller follow-up applications and better long-term control. 

     Copper-based algaecides control the algae present, but not the algae's source, so management can turn into a cycle of application, temporary improvement and regrowth, followed by reapplication, with little long-term control.



Treats and prevents - Controls the algae already present and addresses its most common underlying cause, excess phosphorous, effectively reducing nuisance algae's food source.  

Improved water quality - By binding with excess phosphorous and suspended solids, SeClear can reverse eutrophication, restore nutrient levels and promote healthy marine ecosystems while improving water clarity.

Reduced environmental impact - With the potential for less applications over time, SeClear's comprehensive approach to algae management keeps water algae free and safe for drinking, swimming, fishing, watering livestock and irrigation.*
---
           *Water treated with SeClear may be used for drinking, swimming, fishing, watering livestock and irrigation during and after treatment.  SeClear is ANSI / NSF Standard 60 certified for use in drinking water resources.